Distance Travelled for the Day – Est Steps: 14,686 Distance: 11km
Chukhung Valley (elev. 4710m} Oxygen Content -11.5% / 21%
The day trek today was fairly flat with steady inclines and declines through out the day.  During the day I dropped my camera and chipped the zoom lens.  Appears to work ok although some of the focusing is playing up a bit.  The drop in oxygen content in the air is noticeable now with breathing becoming slightly more difficult uphill.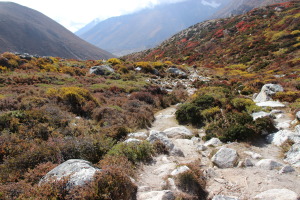 Along the trail we overlooked several traditional farms with this house and fences built from local stone.  The fences extend around the paddock they farm and around the house normally.  Larger farms also have additional plots fenced by stone mostly all around the same size.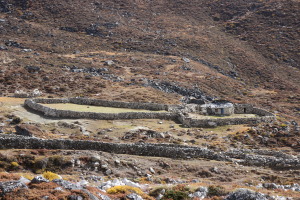 The mountains over looking the valley have some very impressive ice and snow formations.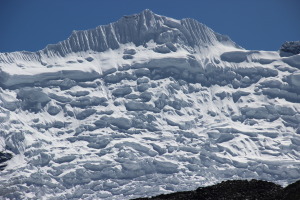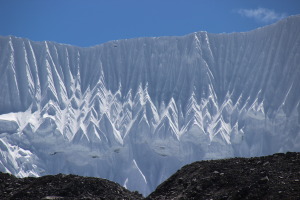 Traditional grazing ground of the yaks. Yaks feed on the vegetation and get photographed by tourists.  So I couldn't help myself and did a poor photo bomb attempt of a poor innocent yak trying to enjoy it's 15 minutes of fame.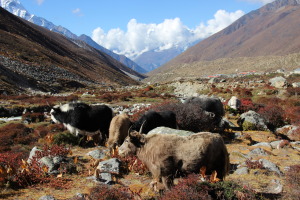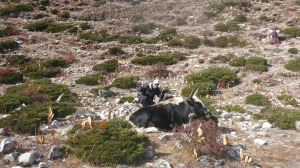 Along the trail are many bushes of the local seabuckthorn (Hippophae) berry.  It is a small orange – red berry that grows on a bush with small leaves.  Is apparently high in vitamins C & E and is used in a number of local traditional medicines.  The taste of each berry varies a fair bit and is a bit sour.  Personally I enjoyed the taste but the opinion of the taste varied greatly within the group.
The seabuckthorn bush survives due to it's rigorous root growth and because of this is now being used to reestablish vegetation in erodes areas in the region.