Distance Traveled for the Day – Est Steps: 20,747 Distance: 15.6km
Lukla:  Oxygen Content -14.8% / 21%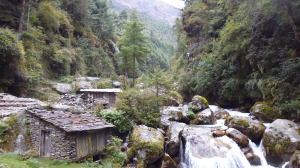 We woke on the final day to the rain brought on by an out of season cyclone that hit India and the effects stretched across the Himalayas.  We were very lucky not to get the full impacts of this and no one was injured n the wet trails.  Other groups were not so lucky and in the neighbouring region suffered some of the worst loss trekking losses recorded.
The rain had little impact on the group though and we had no knowledge of what was happening in the neighbouring areas.  So we headed off with the knowledge that warm showers and more hearty food was just a few steps away.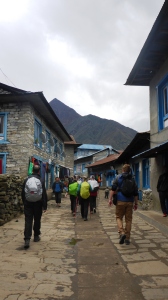 As we arrived into town the group had a mutual sense of accomplishment as well as the pride that comes individual sense of achievement that you could see on even the most tired of faces.
That evening we stayed in the lodge beside the airport which meant an easy walk in the morning to the planes.  That evening the group let their hair down and celebrated.