Distance Traveled for the Day – Est Steps: 19,366 Distance: 14.5km
Dingboche (elev. 4350m} Oxygen Content -12.0% / 21%
This was one of the easiest days so far and started with going downhill on a fairly wide path with well established trees covering the path.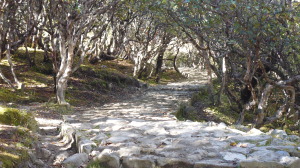 Along the way some of the Yows decide that it is more import that they have something to eat then get the luggage to the next lodge.  They can take their time as they'll be sure to pass us again on the next long climb uphill.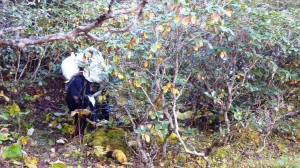 One of the thing I enjoyed through the trip were the various signs that were posted around the place that were understated, simple or just not what we would deem politically correct.  Here is one just as you leave Tengboche pointing out where the nuns live.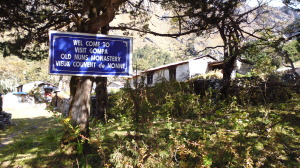 There are constant reminders of the force of mother nature through out the mountains and valleys, although the time we were there the weather could bot have been more perfect.  One of the bridges built on the trail has been washed out the season before.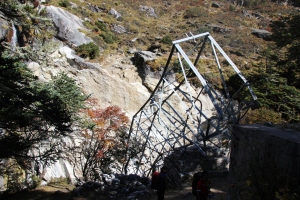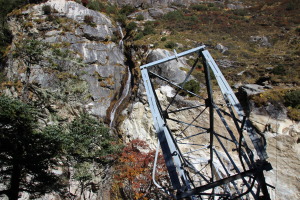 A temporary bridge had been built to make the crossing easier.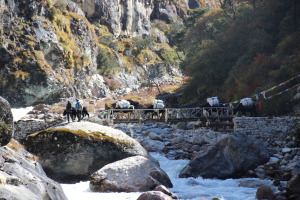 As you hike towards Dingboche you start to get more of an idea of the vast expanses and the altitude that you are now at.  With large valleys and winding streams now far below the trails and even more spectacular view around each corner.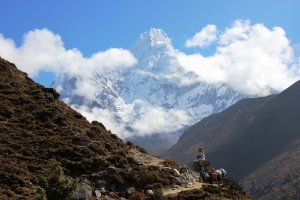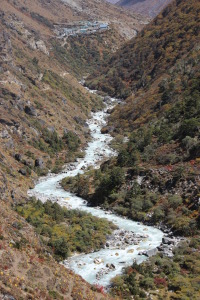 Farmlands continue to dot the trail with beautiful stone fences dividing each of the paddocks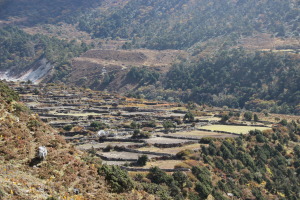 There are some wide open areas that offer relief for the tired hiker with fairly flat and even ground, still providing magnificent views and breathtaking landscapes.