Distance Travelled for the Day – Est Steps: 11,173 Distance: 8.4km
Lobuche (elev. 4920m} Oxygen Content -11.1% / 21%
Throughout the Nepal Himalayas the tourism has brought a lot of money into the region.  As a result of this there is construction in all the villages.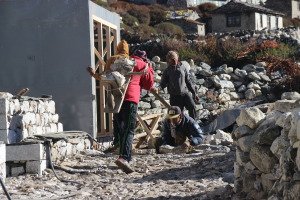 The new construction is based on stone a readily available resource but using modern techniques.  Availability of materials is limited due to remoteness of the area and limited access to transportation. Old style huts still dot the landscape.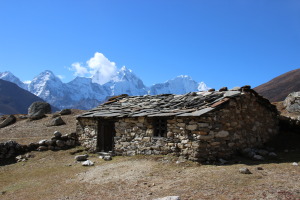 Most of the day consisted of small inclines with a steep climb shortly after morning tea.  We trekked beside clear flowing streams in valleys caused over time by the ice flows then climbing into open plains above the ice flows nestled between huge mountain ranges.  Many of the trails are washed out during the melt or monsoons and need to be rebuilt for the tourists each time.

As we carried just our day packs with what is just necessary for a trip for the day our porters and yaks continue to take all the groups baggage up the mountains.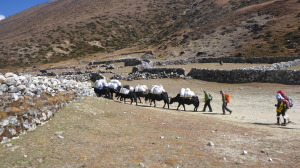 As you climb up the mountains don't forget to take some time to look behind you and enjoy some of the fantastic views. Wide open valleys nestled between the giant mountains of the Himalayas. A lone yak feeds in the wide valley below.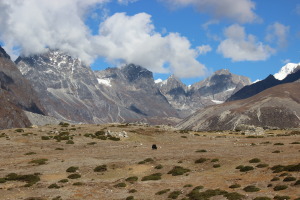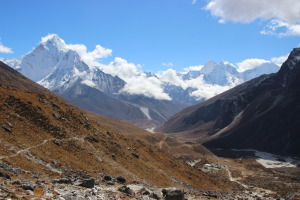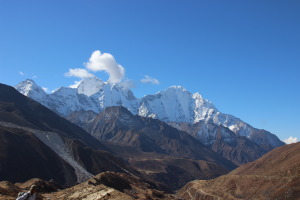 The moss that sits on top of the rocks in the streams form a comfortable place to take a break on the trail.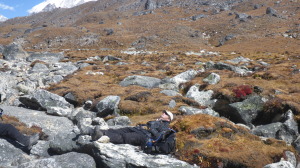 Ground cover with small blue flowers covers the landscape.