Distance Travelled for the Day – Est Steps: 15,548 Distance: 11.7km
Monjo (elev. 2,840) Oxygen Content -14.7% / 21%
We left Kkumjung passing through the school to that Sir Edmund Hillary did so much work to raise funds and his legacy and the great work he started here continues.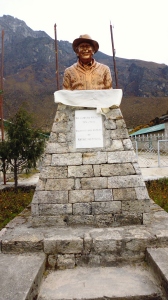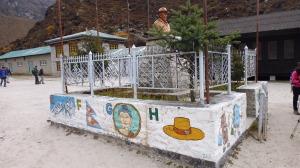 We head up the hill out of town and towards Namche, where we'll spend a few hours before we head in Monjo.  As we reach the peak of the mountain we are presented with some great views of Namche from above.
There is a very distinct treeline that you notice as you trek through the mountains.  As we descend through the mountains the landscape continues to become greener with trees now becoming more coming and forests forming.  Beautiful waterfalls and streams are common as you head back down.
The sounds of the group by now are peppered with coughing and sneezing.  Nearly the whole group affected by either the cold or dust of the Himalayan trails.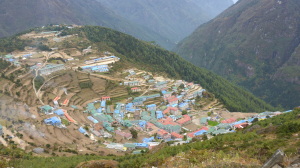 As you hike along the trail and through out Nepal there are large monuments (stupas) that have been built with the Eyes of Buddha looking across the landscape from all sides.  Prayer flags are also a common site strung around the country side in some very unusual and hard to get to places.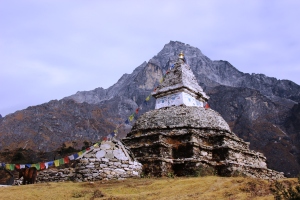 There are many pubs in Namche with T-shirts and flags from across the world that groups and trekkers have left behind to commemorate their achievements.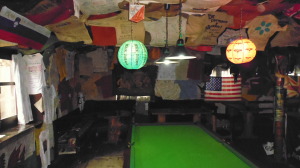 While in Namche the rains came.  It was pretty good timing as the group was able to prepare during the break and get into wet gear in relative comfort, as well as buying any missing wet gear.
As we leave Namche we head down the infamous steep climb that leads into Namche.  Yows also struggle up the up hill carrying supplies and trekkers packs up the mountain.  AS you pass groups of trekkers heading up the hill to Namche we all remember the climb that we did just a week or so before, glad we were now heading down.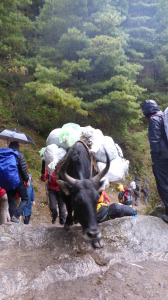 Taking the time to pace yourself and enjoy the views is an absolute must with every turn presenting an awe inspiring view of some of the highest mountains in the world.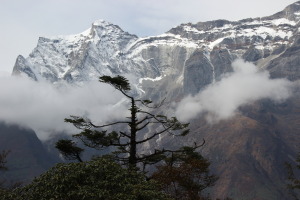 A old airstrip near Lukla, I don't think I need to say much… Just glad they have a new one.