Distance Traveled for the Day – Est Steps: 8,333, Distance: 6.2km
Namche Bazaar (elev. 3,480m} Oxygen Content -13.6% / 21%
We woke up to another spectacular morning and the view from our room as the sun rose of the mountains was breathtaking.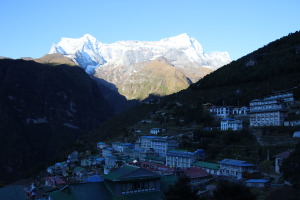 For those that haven't trekked before let me clear something up that was a big misunderstanding in our group.  Acclimatization day is not a rest day, it is something completely different.  So don't think that after the huge climb of getting into Namche Bazaar that you'll spend today lazing around the lodge or shopping amongst the many local stores.
An acclimatization day is used to get your body used to the lower oxygen content in the air.  The practice is often to hike to a higher area then return to the lower altitude.  Today we hiked up to the Sherpa Culture Museum.  This was a straight forward hike up the hill however is fairly steep.  There was a bit of a miscommunication between our sherpa guide and several of the group.  A few of us put thermals on for the trek up the hill and once the sun starting warming the trail the temperature quickly rose.  This forced a quick wardrobe change and all was good again with the world.

The plateau where the museum is built again offers some great views of the Himalayas as well Namche Bazaar now sitting well below us.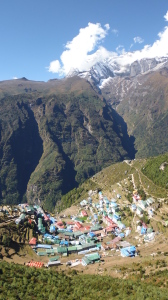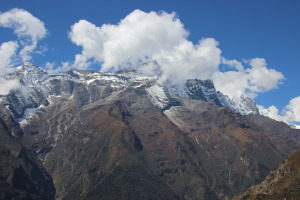 The Sherpa Cultural Museum is worth the look with many artifacts as well as detailed information on the flora and fauna of the region.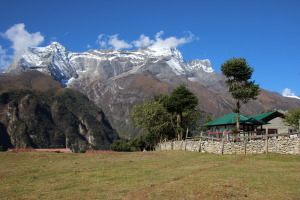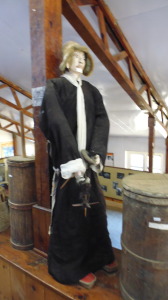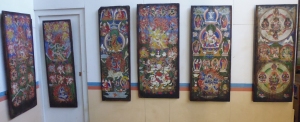 There are also some local huts on the plateau built in the traditional Napalese way.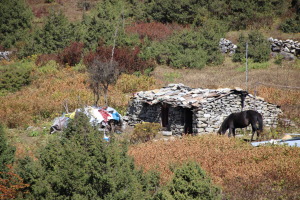 After sometime on the in the museum we head back down towards Namche for lunch and to spend the rest of the afternoon browsing around the many stores, bars and maybe get a well deserved massage.  The locals as well as returning trekkers in the bars are really friendly and happy to talk and pas on tips for the trek ahead as well as customs in the area.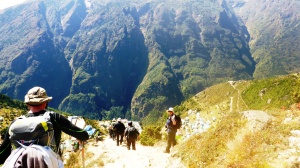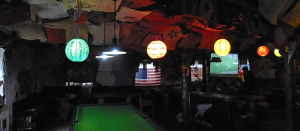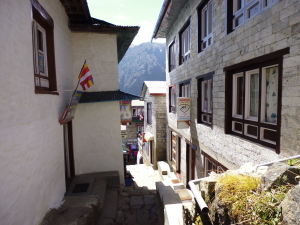 The experience of using toilets in Nepal is always interesting and seems to always be a topic of conversation with the various members of all the groups you encounter.  The locals also have some issues with the toilets and we saw numerous signs around to help people and encourage those with difficulties.  Below are some of them we saw in Namche Bazaar.